DeLorean Motor Company unveiled their all-new DeLorean Electric Vehicle, an updated version of the famous 1980s gullwing door all-stainless-steel sports car from the Back to the Future films.
In contrast to the original Medusa, which had four gullwing doors, the new DeLorean EV will have two enormous electrically-operated gullwing doors that each reveal the first and second rows of seats.
Is There an Electric DeLorean?
Yes, the new DeLorean Alpha 5 is an all-electric version of the original model. The Alpha 5 will only be available in 88 units, according to the manufacturer.
---
How Much Will the Electric DeLorean Cost?
A pricing range of $136k is hinted at for the high-end Model S Plaid and $169k for the Lucid Air Dream Edition.
To put it in perspective, a brand-new DeLorean starts at about $175,000. DMC-12 was originally priced at $25,000 in 1981, which works up to around $80,000 in 2022.
---

Who is Making DeLorean EV?
The new DeLorean is manufactured by the DeLorean Motor Company of Texas. To be clear, the DeLorean EV is not made by the same firm that made the DMC-12.
Known for rebuilding classic DeLoreans, the DMC claims to be the biggest supplier of components for the defunct brand that produced the original.
The company hasn't released many details about the concept vehicle, but it did say that Italdesign, well renowned for its work with Volkswagen, was also involved in the design process.
---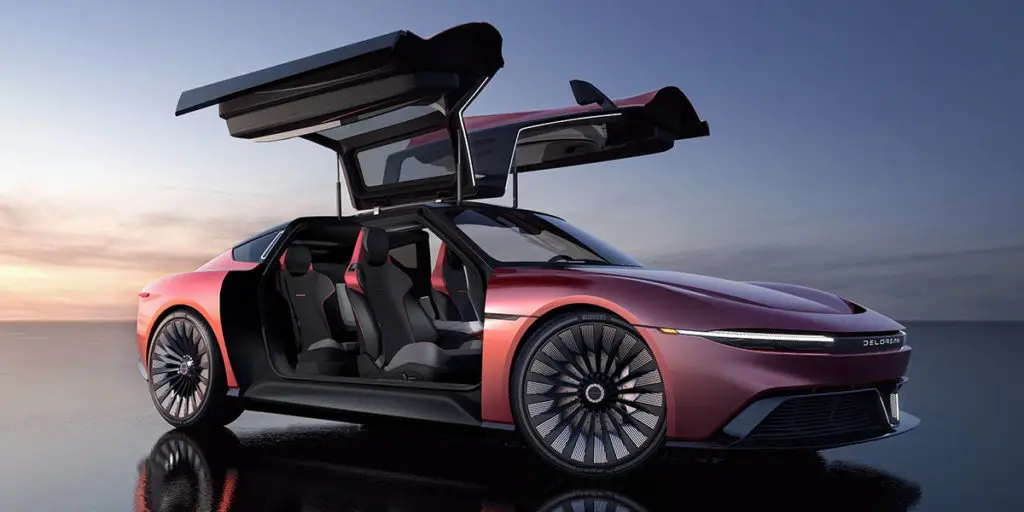 Is the New DeLorean Stainless Steel?
The DeLorean DMC 12 was hailed as a futuristic vehicle when it was first shown in 1981 as the brainchild of famous Italian designer Giorgetto Giugiaro. The car gained widespread fame as a time machine in the Back to the Future movies.
However, the new DeLorean will not be stainless steel – rather it comes with a modified chassis made of carbon fiber. DeLorean EV will not have the same famous 1980s Italdesign-designed body over a contemporary electric drivetrain.
Although it will have a fresh exterior appearance, the 21st-century DeLorean will still include the iconic gullwing doors like its predecessor.
Learn more and geek out at DeLorean.com!