Having a hard time looking for the perfect gift for a Star Wars fan? These products based on the iconic franchise will take your gift-giving skills to the next level. May the Force be with your wallet!
There's no doubt that Star Wars has come a long way since Luke Skywalker blew up the original Death Star in the 70s. The amount of memorabilia, collectibles and general gifts for Star Wars fans has increased too. Major brands like Lego and Funko have been brought in to create things like action figures and other merchandise. Whether you're looking for Star Wars gifts for adults or children, there is something for everyone on your list.
If you buy something from the links on this page, we may earn a commission. Learn more
01
Yoda Metal Bookend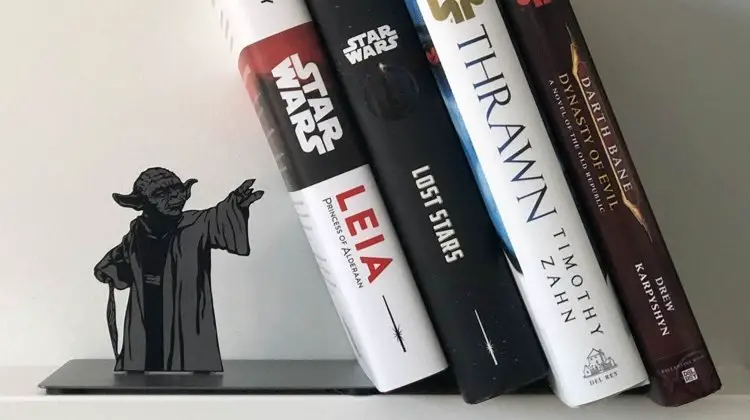 With all the great Star Wars books out there – and more on the way – every fan needs a way to keep their books safe. That's where the Yoda metal bookend comes in. Be amazed as Yoda keeps your books in place using the power of the Force. The bookend has a clever design that makes it appear like Yoda is holding the books up with the power of the light side.
02
Death Star Lego Set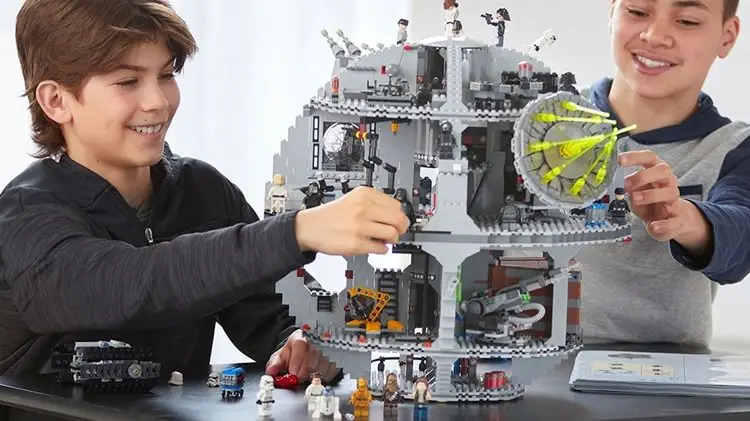 This Lego set is certainly extravagant but it's worth it. It's a celebration of the original movies and one of the ideal Star Wars gifts for adults who grew up with the original movies and want to bring the Death Star to life. Help the Empire fulfill their goal of gaining dominance over the galaxy by putting together this 4,000+ piece Lego set. It features over 20 characters too for that extra touch. At least no Bothans are going to have to die for this.
03
Millennium Falcon Desk Lamp
This is one Millennium Falcon that's more than ready for the jump to light speed. The lamp comes complete with an offset cockpit, the forward cargo mandibles and a rear slot for the engines. What you get is a replica of the real thing for your desk. The lamp is fully adjustable and gives you the light you need to go over those Death Star plans. Or just do some night-time reading.
04
Sphero BB-8 App-Enabled Droid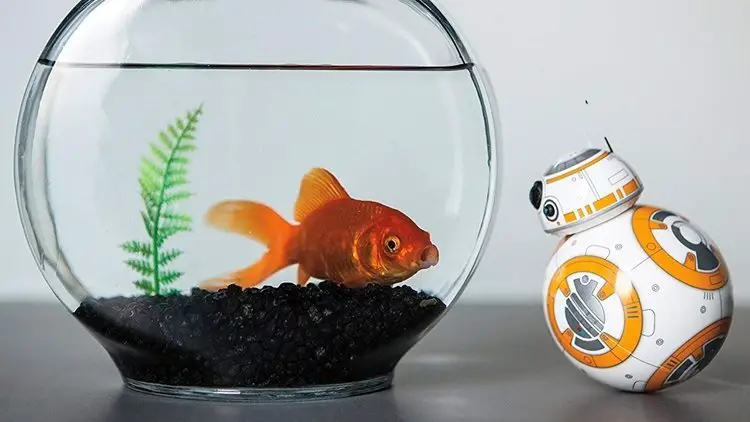 Whether you love the new movies or not, we can all agree that BB-8 is an adorable little guy and one of the best droids in town. This app-enabled droid will provide hours of fun as it runs around and follows commands given through a smart device. That's right; it's compatible with more than just phones. BB-8 is one of the new faces of the franchise and we think that Sphero did an excellent job here.
05
R2-D2 Coffee Press
R2-D2 has been there for Anakin, Luke, Leia, and Obi-Wan. Now he's here for you. Well, he's here to help you make coffee and get your morning started off right at least. Put the coffee grounds and water in his glass body and leave it to brew for a few minutes. Press the plunge and you'll get up to 32 ounces of delicious coffee.
06
Darth Vader Toothpick Dispenser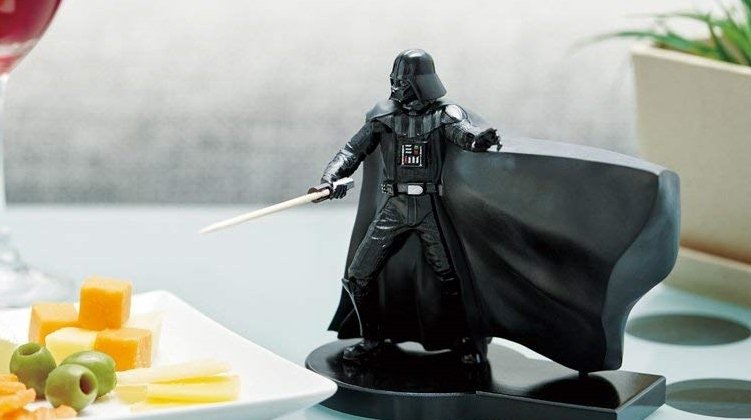 Add a touch of the dark side to your kitchen or dinner party with some help from Lord Vader. Flick the switch on his back and Darth Vader will offer up a toothpick to anyone who needs one. Anyone who loves Star Wars is sure to appreciate this little geeky gift. It goes with any kitchen or desk and is the perfect way to keep teeth clean.
07
Star Wars Icon Lights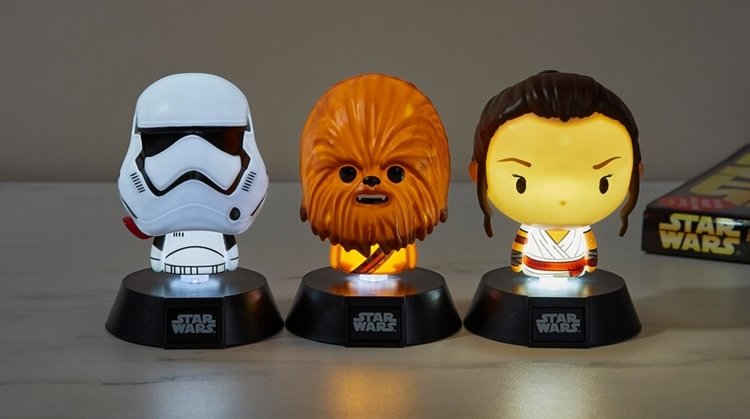 These little Star Wars Icon Lights are adorable and offer up a surprising amount of light. They are a great way to celebrate Star Wars and show off your favorite characters. The characters let off a gentle glow that will help set you at ease and sleep at night after a hard day of fighting the Empire.
08
Millennium Falcon Bottle Opener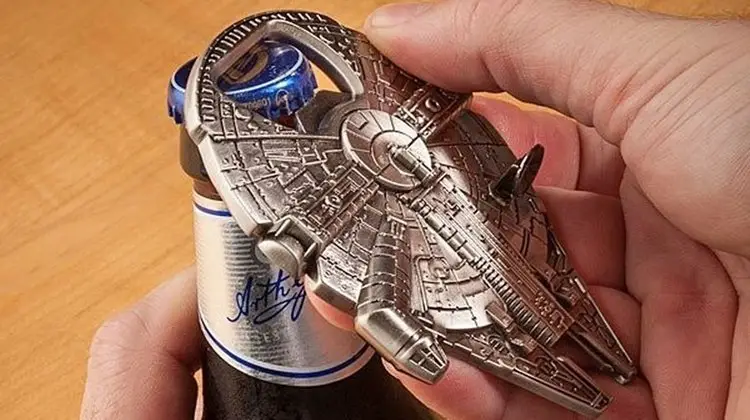 This cool bottle opener can't get you to hyperspace but it can get you hyper-drunk, so that's something. The Millennium Falcon bottle opener comes with a magnet on the back so you can stick it to your fridge for easy access. It's the perfect tool to have on your side after making the beer run in under 12 parsecs. Not to mention it gives you the opportunity to declare the truth that Han shot first.
09
Star Wars Rolling Pin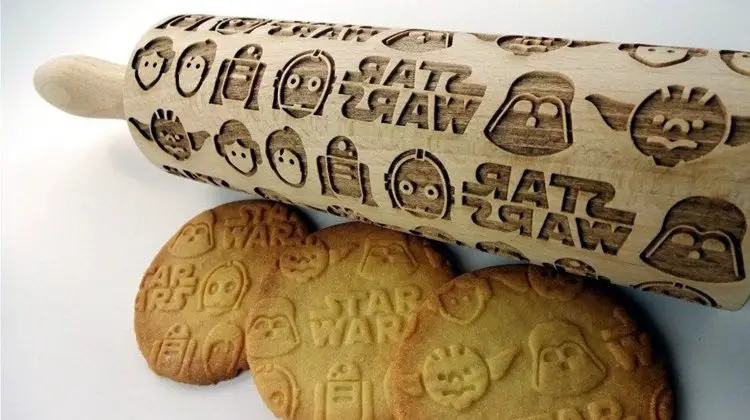 The Star Wars rolling pin allows you to create the ultimate Star Wars cookies and other baked goods. This is a traditional rolling pin with Star Wars iconography engraved into it. It basically allows you to bake cookies embossed with the Star Wars logo, Darth Vader and more. It's a great choice for kids and adults alike and comes with a few recipes for out-of-this-galaxy cookies.
10
Chewbacca Seat Belt Cover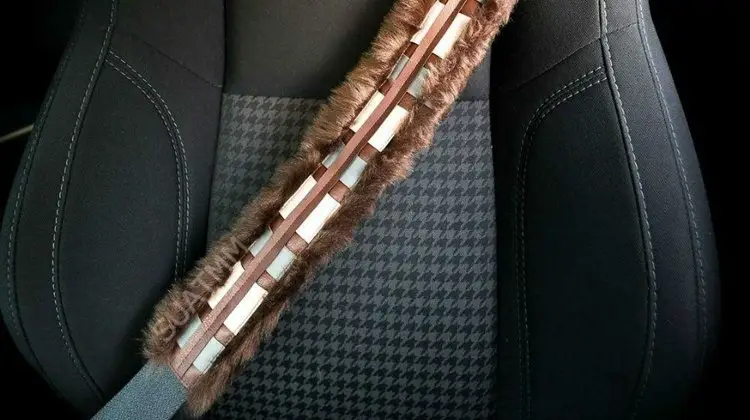 Even Chewie understands the importance of buckling up. This comfortable fuzzy seatbelt cover lets fans show off their Star Wars pride while adding an extra layer of comfort to a car journey. The cover attaches via Velcro so it's easy to install and remove. Take it out of the car and have Chewbacca on your guitar strap, backpack, purse, laptop case or anything else that you can fit him too.
11
Star-Wars Themed Mansion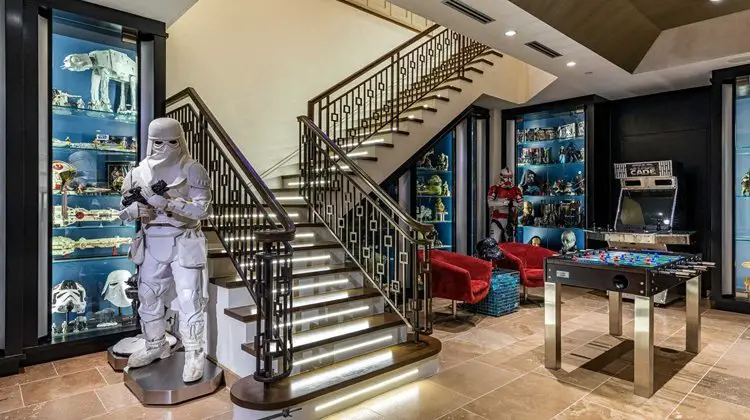 Those that want the full Star Wars experience will be delighted to find out that there is an exceptional Star-Wars themed mansion. It comes complete with many life-size replicas of the most beloved Star-Wars characters. The owner has been collecting them for many years and he has dedicated his life to make the building the true home of the franchise. The mansion includes over 18,000 square feet of space, an aquarium and a gym.