Dinosaurs and tacos are two of the most popular foods among children. Get their creative juices flowing and make mealtime an experience for them!
In order to serve and consume tacos more efficiently, Dino the triceratops taco holder holds two tacos in his mouth. Talk about a tacosaurus! A ten-inch-long piece of wood. With the ultimate taco holder, kids can enjoy tacos and a dinosaur at the same time, fostering a sense of family togetherness and helping parents keep their children seated at the table.
Enjoy tacos in Jurassic fashion on your next Taco Tuesday! If you're wanting to add a little excitement to the dinner table, this is the perfect present!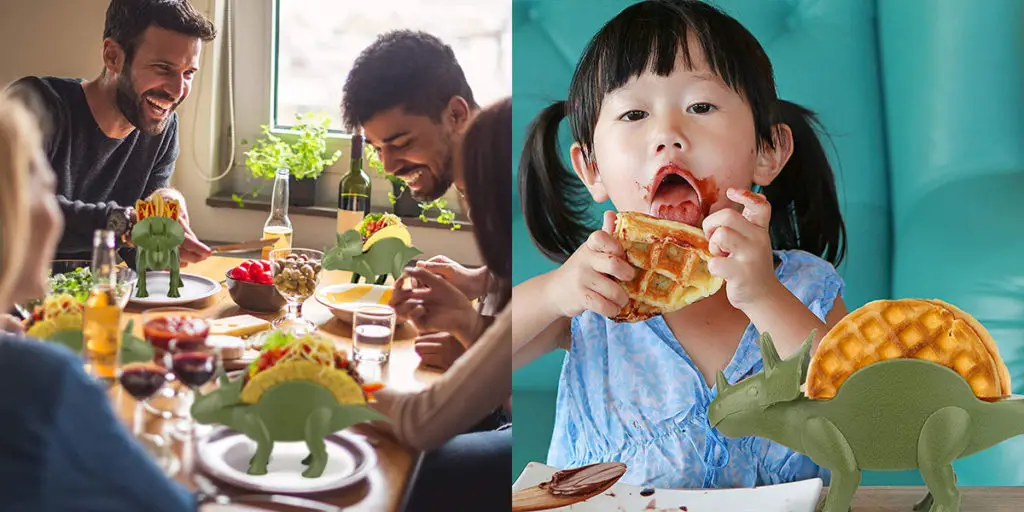 This taco holder has several unique characteristics including the following:
Great for both children and adults. Every meal or snack will be a roaring success with this taco restaurant for kids, teenagers, and dino fans of all ages.

BPA-FREE: All our products are BPA-free and constructed of safe materials that are 100% food-safe. The products undergo a rigorous testing process to guarantee that they are safe for children to play with.

Taco Tuesdays are a great option for kids who aren't big eaters since they're a fun way to get them to eat. Also included in this dino's cargo are a variety of crackers and other munchies like waffles, nachos, paninis, pizza rollups, cheese flautas, and burrito dogs.

In addition to being great for Taco Tuesdays and dinosaur birthday parties, this handy serving tray can be used for any meal that calls for tacos, such as a family dinner or a simple get-together.

Perfect gift item. The triceratops taco holder is ideal for children and adults who want to spice up their mealtimes.
The tacosaurus taco holder, once thought extinct, has returned… and it's ready to handle two of your favorite tacos! Buy this fun taco holder here.