If you have someone in your life who is a huge Minecraft fan, this list will help you find the perfect gift for any occasion.
Minecraft is one of the most popular games today. It's loved and played by people of all ages, from young children and teens to adults. When you're not playing Minecraft on your computer you can still enjoy the game in the form of toys, mugs, decorations, clothing items, and even card games inspired by it. So, if you're a fan or you're looking for a gift for someone who loves playing Minecraft,  you'll be glad to know that there are endless gift ideas that you can use to find the perfect item to suit your purpose. Minecraft memorabilia and gifts look exactly like they are out of the Minecraft world. They are designed to take your passion for the game to a whole new level.
If you buy something from the links on this page, we may earn a commission. Learn more
01
Minecraft Coffee Mug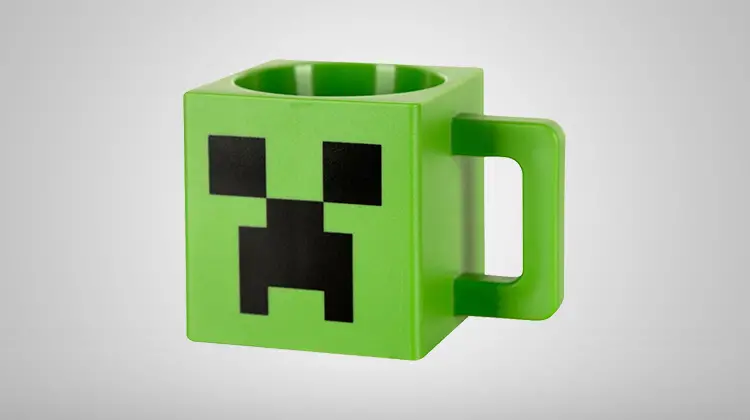 Are you looking for inspiring Minecraft gift ideas? You could start with a coffee mug. It's the simplest and most practical gift item inspired by Minecraft. A mug is after all a smart gift option. This Minecraft coffee mug holds 9.8 ounces, which is enough to keep you awake as you build worlds late into the night. It's also a perfect collector's item for fans of Minecraft. And of course, your morning cup of coffee will taste better out of this.
02
Color Changing Potion Bottle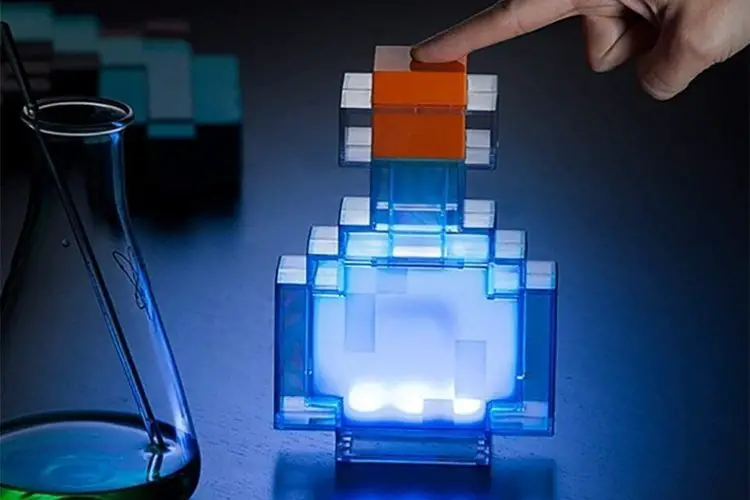 Bring the magic of Minecraft to your home using this color-changing potion bottle. In the Minecraft world, this potion will enhance your swiftness and speed while mining. So why not pretend you have the real potion inside this color-changing bottle and light up your bedroom or living room. The small bottle is shatterproof and is powered by AAA batteries. It even gives you a choice of up to 8 vibrant colors to light up the room. It's not only a perfect Minecraft-inspired bedroom decor but can also work as a night light.
03
Diamond Sword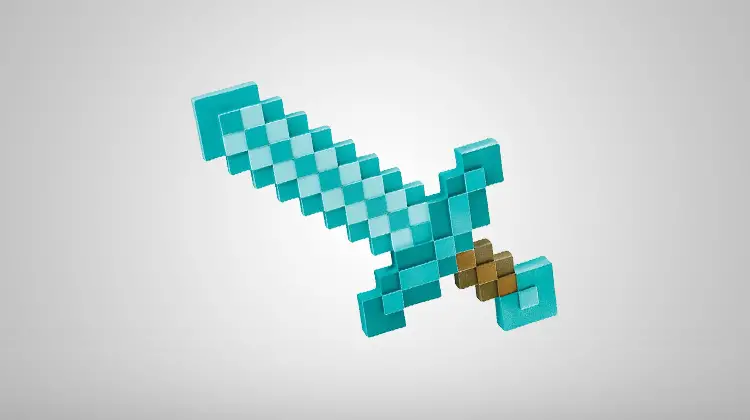 If you're a true Minecraft fan then you will definitely want to have your own diamond sword, just in case there are creepers hanging around. You can wield this adventure diamond sword around your fellow Minecraft friends and earn a few social points. You could even showcase the sword while wearing a Minecraft mask for a more dramatic effect. This diamond sword makes for a perfect gift item for someone who loves going up against creepers, zombies, and other bad guys.
04
Diamond Ore Block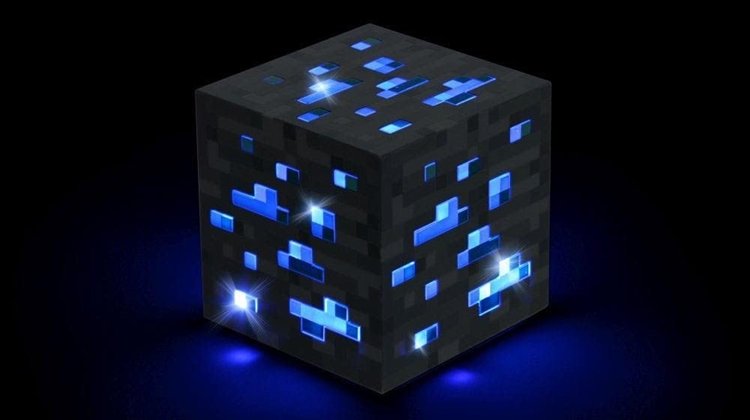 This is one of the best gifts for Minecraft lovers. It's a touch-activated light-up diamond ore block that will definitely light up the face of any Minecraft player. If you fantasize about living in the worlds you create in Minecraft, you'll definitely want to have this 3-inch glowing cube by your side at all times. It can be set to give low, medium, or high light by simply tapping on the block. It uses two AA batteries to power its internal LED lights.
05
Minecraft Wall Graphics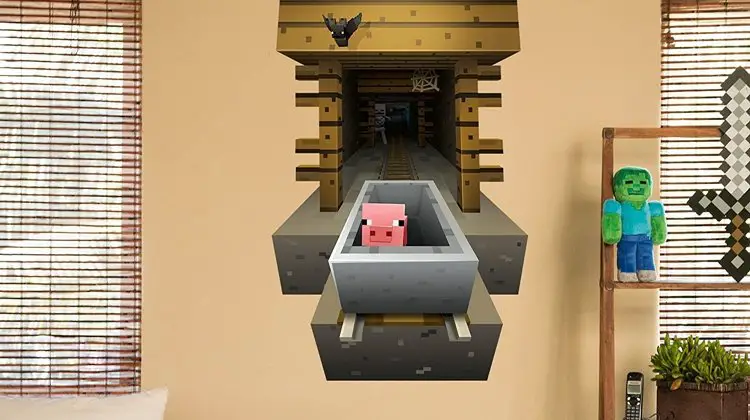 This is a huge easy peel and stick repositionable poster designed to give any room in your home a Minecraft-themed décor and style. It works perfectly in bedrooms, gaming rooms, kid's playrooms, living rooms, and any other wall inside your home. The decal depicts detailed images from the world of Minecraft while creating an illusion of the wall opening inwards into another dimension. Bring your kid's dream into reality by decorating his or her room with this brightly colored Minecraft wall poster.
06
Minecraft Light-Up Torch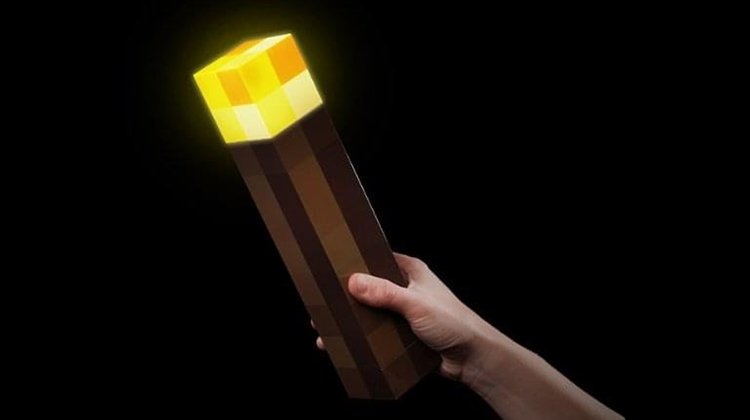 This is a multi-functional Minecraft-inspired wall torch. It can be used as a toy to bring the Minecraft mining adventures straight into your home. You can also use it to light up your home just like you normally light up dark places in the game. The torch can easily be mounted on the wall or set on a table in your office or bedroom. It has a bright illumination of level 14 light, which is bright enough to ward off hostiles from invading your bedroom or office at night.
07
LEGO Minecraft Crafting Box 2.0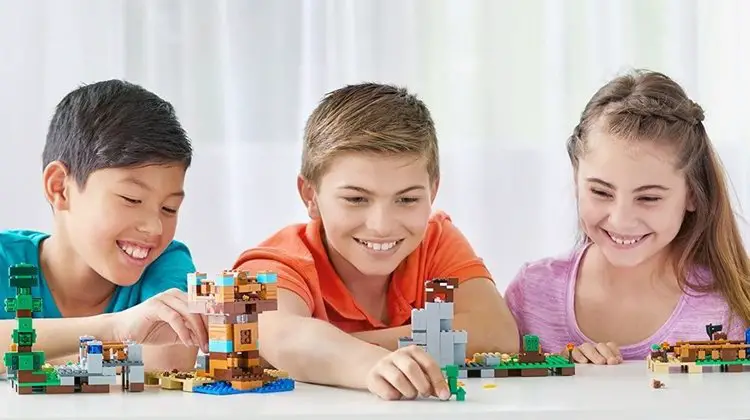 This LEGO Minecraft Crafting Box 2.0 is designed to give your young Minecraft fans endless possibilities in building, rebuilding, and combining different models in their favorite game. The set is meant for imaginative players who want to take their Minecraft expertise further using LEGO bricks. It comes with five brick bags each of them having 3 alternative configurations. It's a perfect gift item to keep your creative kids fully occupied for hours.
08
UNO Minecraft Card Game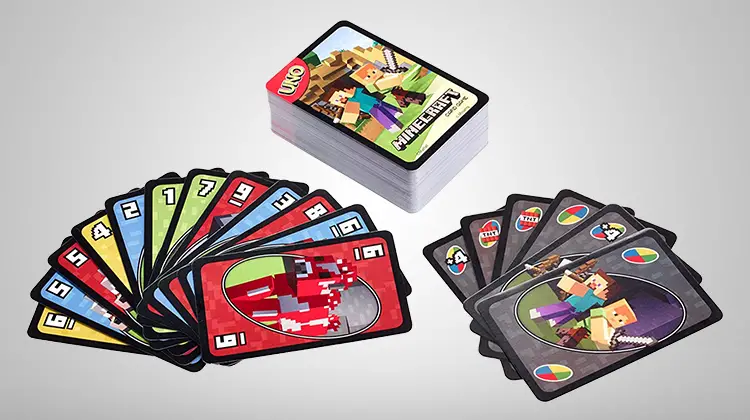 UNO is another popular card game loved by many including Minecraft fans. This set of UNO Minecraft cards doesn't show the classic UNO numbers and colors but instead features images of characters and monsters from Minecraft. It even comes with a special Creeper card that adds a twist to the game. When you draw the Creeper card all the other players have to pick three more cards each. The set contains 112 cards and an instructions manual. The card game is a perfect addition to any Minecraft-themed party.
09
Minecraft Survival Pack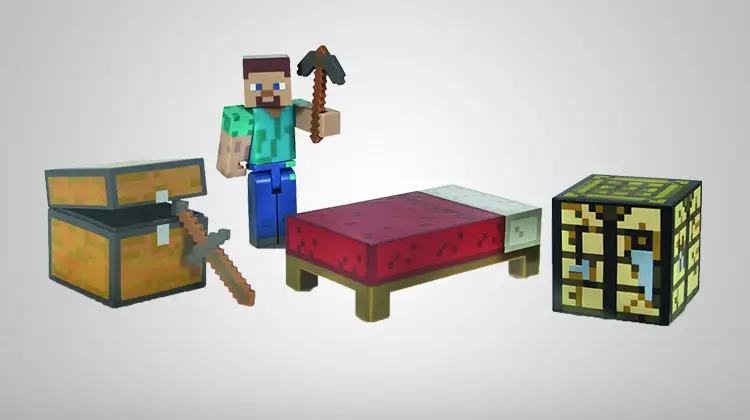 This is another item every self-respecting Minecraft player should add to his or her collection. It comes with everything a new Minecraft player requires to get started in the game. The survival pack includes a wood pickaxe, a workbench, bed, wood sword, chest, and even a fully articulated Steve action figure. If you're looking for the perfect way to start your Minecraft adventure, this survival pack is a perfect option. It's also great for encouraging creative play for kids away from the computer.
10
Steve and Creeper Head Costume Mask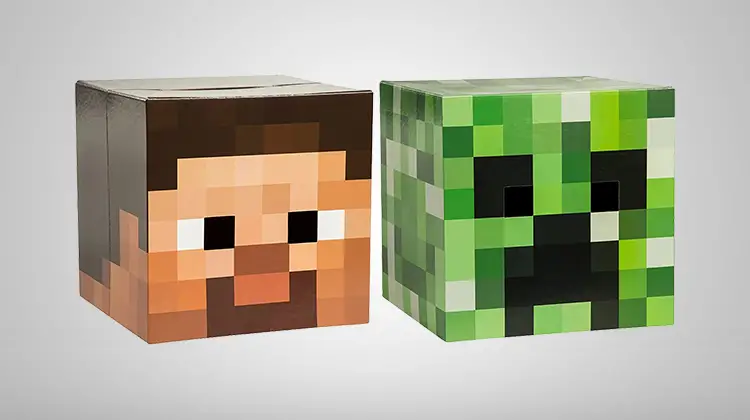 These head costume masks are designed to transform your face into a pixelated blocky image of Steve or a mob Creeper. The officially licensed masks are made of durable cardboard and come in a one-size-fits-all for kids of all ages. Each bundle package contains two masks featuring Steve and the Creeper. You also have the option to purchase each mask individually. The masks are ideal for Minecraft-themed birthday parties, Halloween, and other fun occasions. They can also be worn as photo booth props.