If you are a Harry Potter fan, check out this deck of high-quality Harry Potter playing cards. These cards are the ideal homage to the Wizarding World.
From the Sorcerer's Stone through the Deathly Hallows, explore and experience the plot and its memorable events every moment you hold the cards in your hands. Theory 11's Harry Potter greeting cards are of very high quality, with gold foil, raised embossing, and innovative designs.
The premium Harry Potter Playing Cards are available in FOUR stunning color versions, symbolizing the 4 houses of Hogwarts, namely Gryffindor, Slytherin, Ravenclaw, and Hufflepuff! Relive the most famous moments of the legendary series each time you bring out the cards to play.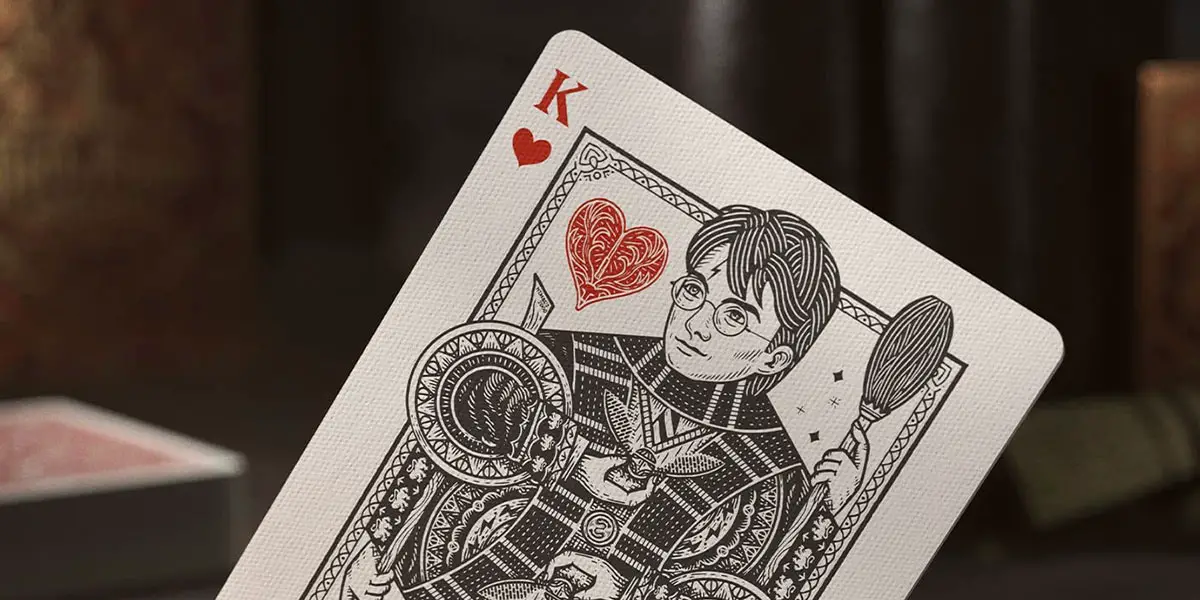 Key Features of Harry Potter Playing Cards from Theory11
Officially approved Harry Potter premium playing cards

Available in FOUR stunning color versions – symbolizing the four houses of Hogwarts

Featuring exquisite intricate embossing and gold foil embellishments

Made in America utilizing the best quality paper material and vegetable-based inks
Theory11 is a superb playing card design firm, their cards are exceptionally high quality. Gold foil, raised embossing, highly innovative intricate patterns, and licensed. All theory11 decks are produced in the US by the US Playing Card Company to provide the best degree of quality.
These Harry Potter playing cards come in four different styles:
The Aces, Jokers, court cards, and box design of Harry Potter Playing Cards are all based on beloved Wizarding World characters and events.
The artwork on the Aces, Jokers, box and court cards is all original. The outside package is really wonderful. Opulent, opulent gold foil. Striking house-colored foil embellishments. Each card in the pack comes with precise, ultra-detailed embossing.
This is a box of Harry Potter cards that feels and looks elegant from every perspective. These cards are also a perfect gift for any Potterhead.